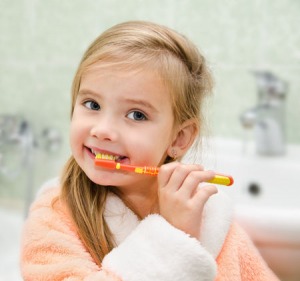 Dental care for children should begin as soon as their first teeth erupt. Taking good care of your children's teeth, and teaching them how to take care of their own teeth when they get old enough, will lower their risk of developing serious oral health problems as they grow up.[1]
Following your dentist's advice and keeping up with your child's regular dental check-ups can improve their chances of avoiding these common oral health problems.[1]
Tooth decay
Tooth decay is caused by plaque, a layer of bacteria that can build up on the teeth. These convert sugars in the food and drink children consume into acids that can wear down teeth enamel, sometimes causing cavities. Young children are at higher risk of cavities than teenagers and adults as their teeth are thinner and softer.[2]
Tooth decay is the most common oral disease that affects Australian children. According to the most recent National Child Oral Health Study, around 42% of children aged 5 to 10 have experienced decay in their primary (baby) teeth at some point, while 27% have at least one tooth with untreated decay.[3]
Around 24% of children aged 6 to 14 have experienced decay in their permanent (adult) teeth, with 11% having untreated decay.[3] Even decay in baby teeth is a cause for concern, as it can damage the permanent tooth growing underneath.[1]
Tooth decay is a preventable condition that can be avoided by following good oral hygiene and cutting down on sugary snacks and drinks. It's also important that children have regular visits to the dentist, as this improves the chance of early decay detection.[2]
If teeth already have cavities, these can usually be repaired with a white filling. A tooth will only be extracted as a last resort if it's too badly decayed to save.[2]
Gingivitis
Gingivitis is the early stage of gum disease. It's caused by plaque that irritates the gum. It's sometimes accompanied with symptoms such as swollen, red or bleeding gums and bad breath.[4]
Gingivitis affects people of all ages in Australia, including around 22% of children aged 5 to 14. The rate is slightly higher for boys than girls (24% vs 20%).[3]
If your child has gingivitis, it can usually be treated by improving their oral hygiene. However, you should also visit the dentist so they can check your child's mouth and remove any plaque that may have hardened on their teeth. If gum disease is more advanced, your dentist will discuss gum disease treatments to remove the infection.[4]
Missing teeth
The average number of missing teeth increases with age, but tooth loss is still a problem for the youngest members of society. While children eventually lose all of their primary teeth naturally, around 5% of kids aged 5 to 10 have lost one or more teeth to decay, which can affect the tooth growing beneath. Around 1% of children aged 6 to 14 have lost a permanent tooth to decay.[3]
Tooth loss may prevent children from eating normally, which can affect their diet and nutrition. It can also sometimes impact on their speech and appearance, which can have social consequences and affect their self esteem and quality of life.[5]
As well as helping your child to avoid tooth decay, you should also make sure their teeth are protected from injuries during school sports. A custom-fitted mouthguard provided by their dentist offers the best protection against injuries to the teeth, jaws and mouth.[6]
Find a family dentist in Brisbane CBD
Are you looking for a kid-friendly dental clinic in Brisbane? At Face Value Dental, our friendly team have extensive experience working with kids of all ages. We aim to make going to the dentist a pleasant experience, to help children develop good oral health habits that we hope last a lifetime.
Call our Brisbane dentists on (07) 3221 0677 or book an appointment today.
References
[1] Healthdirect. Dental care for children [Online] 2017 [Accessed April 2019] Available from: https://www.healthdirect.gov.au/dental-care-for-children
[2] Healthdirect. Tooth decay [Online] 2017 [Accessed April 2019] Available from: https://www.healthdirect.gov.au/tooth-decay
[3] Do LG & Spencer AJ (Editors) 2016. Oral health of Australian children: the National Child Oral Health Study 2012–14. Adelaide: University of Adelaide Press.
[4] Healthdirect. Gum disease [Online] 2017 [Accessed April 2019] Available from: https://www.healthdirect.gov.au/gum-disease
[5] National Advisory Council on Dental Health (NACDH) 2012. Report of the National Advisory Council on Dental Health 2012. Canberra: Department of Health and Ageing.
[6] Better Health Channel. Mouthguards [Online] 2014 [Accessed April 2019] Available from: https://www.betterhealth.vic.gov.au/health/conditionsandtreatments/mouthguards