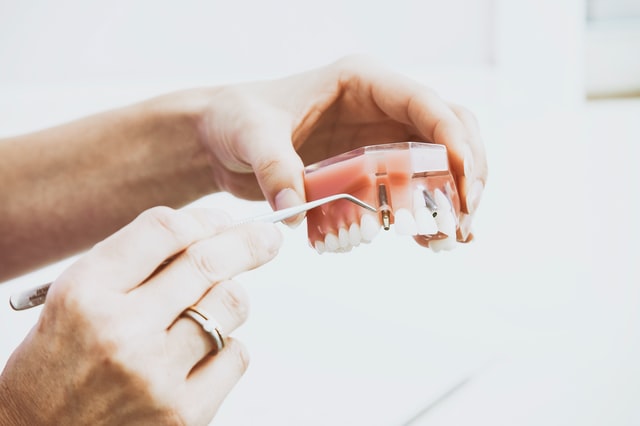 From injuries to extractions, tooth loss can affect people of all ages. If you have gaps in your smile from missing teeth, or if you need to replace all of your teeth, dentures could be an option to consider.
If you associate dentures with seniors, you might be surprised to learn that many younger adults also wear full or partial dentures. That's because modern dentures look more natural than those of previous generations, so many people don't even notice.
If you're not sure whether dentures are right for you, you can talk to your dentist to find out the pros and cons of dentures and other tooth replacement options.
When should I get dentures?
If you're missing any teeth, or you need to have teeth extracted, your dentist will recommend replacing them. Gaps in a smile can make people feel self-conscious about how they look, but there are more reasons to consider replacing a tooth than just appearance.
Missing teeth can also make it harder to eat certain foods or may affect speech. Healthy teeth that are no longer supported on one or both sides may also lean into the gap over time and go crooked, which can make them harder to brush and floss. If you lose a number of teeth, your face and jaw will lose some support, which could cause muscles in your face to sag.
Dentures are just one of the options available for replacing one or more missing teeth. Your dentist could also discuss alternatives such as a dental bridge or dental implant.
What are the different types of dentures?
Dentures can replace an individual tooth, several teeth in a line or a whole arch of teeth. The three common types of dentures are:
Partial dentures – replace one tooth or a few teeth, attached to healthy teeth on each side by clasps
Full dentures – replace a full upper or lower jaw of teeth, attached to the gum or roof of the mouth by suction
Implant-retained dentures – full or partial dentures supported by one or more dental implants in the jaw
Dentures are usually made from acrylic that's designed to look as close to natural teeth as possible. Your dentist can match the shade of partial dentures to the rest of your teeth, or you can choose a shade you prefer for full dentures.
Will dentures make me look older?
High quality dentures can sometimes be indistinguishable from real teeth, so people might not know you're wearing them. However, they may be less convincing than crowns or bridges made from porcelain, which has similar properties to tooth enamel.
Not wearing dentures and leaving gaps in your smile could make you look older, especially if you have many missing teeth. This can cause your lips, cheeks and facial muscles to lose support, leading to a prematurely aged appearance.
For the most natural appearance, and to ensure comfort, dentures should be custom made to fit your mouth. Dentures can wear down or damage over time, like teeth, so you should see your dentist if your dentures need to be replaced, repaired or relined.
How are dentures made?
If you choose to have dentures, your dentist will take measurements of your mouth and send these off to a lab where your custom dentures will be manufactured. Once your dentures are ready, your dentist will show you how to fit and remove them and check that they're the right fit.
If you need to have any teeth extracted first, or if you have an oral health problem such as gum disease, it's recommended to wait until your gums have healed before measurements are taken, otherwise your dentures may not fit properly. If you need dentures urgently, your dentist may be able to fit immediate dentures, though these may need to be adjusted on subsequent visits.
How long does it take to adjust to dentures?
Although denture fitting doesn't involve surgery (unless you need complex extractions), it usually takes some time to get used to how they feel in your mouth, especially how they affect eating and speaking. The adjustment time depends on the individual, but it's usually between a few weeks and a few months.
New dentures may feel loose (even if they're properly fitted), may cause you to produce more saliva than before, and may feel sore. If your dentures are causing too much discomfort, or if you have other unexpected side effects such as swelling or bleeding, make an emergency appointment to see your dentist or doctor.
Are dentures better than implants?
Dentures aren't the only option for replacing missing teeth and restoring your smile. You may also be interested in a fixed bridge, which can replace several missing teeth between healthy teeth, or dental implants. An implant is surgically placed in the jaw and can be covered by a replacement tooth, fixed bridge or removable dentures.
Implants have the advantage that they replace the entire tooth, including the root. This helps to support the jaw and prevents deterioration of the bone. Implants are made from titanium, which can last a lifetime without needing to be replaced, although the prosthetic tooth covering the implant may need to be replaced after a number of years.
Advantages of dentures over implants are that dentures are cheaper and don't require surgery. Your dentist can give you all the information you need about the treatments they offer so you can make a fully informed decision.
What does a full set of dentures cost?
The cost of dentures depends on whether you want full or partial dentures and the material they're made from, among other factors. You may be able to claim some or all of the cost on your health fund if your insurance covers dental treatments.
Your dental clinic can give you a breakdown of costs during your consultation, as well as discussing the finance options they offer to help you manage your payments.
Find out more about dentures in Brisbane CBD
For more information about dentures, contact Face Value Dental to book a consultation with our prosthetist. Call us today on (07) 3221 0677 or book an appointment online.
References
Better Health Channel. Dentures [Online] 2019 [Accessed May 2020] Available from: https://www.betterhealth.vic.gov.au/health/ConditionsAndTreatments/dentures
Healthdirect. Dentures [Online] 2019 [Accessed May 2020] Available from: https://www.healthdirect.gov.au/dentures