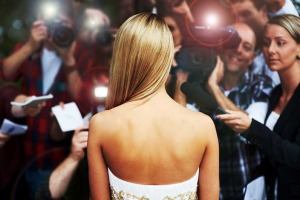 Not all celebrities are born with Hollywood smiles. Many have benefited from dental treatments to help them achieve and maintain their straight, white teeth.
From movie and TV actors and actresses, to singers and sports stars, many public figures are open about their dental and orthodontic work. Others prefer not to comment, but clear differences in before and after photos have caused plenty of speculation.
Here are some of the most notable celebrities from around the world who may have had help from their dentist or orthodontist.
Celebrities with braces
Braces aren't just for teenagers. While many people choose to straighten their teeth in adolescence, advances in orthodontic technology have led to more adults choosing braces and Invisalign® treatments to correct crooked or misaligned smiles later on in life.
Many Australian stars had orthodontic work in their teens, including Delta Goodrem and Kylie Minogue, while Formula 1 driver Daniel Ricciardo corrected his crowded and crooked teeth in his 20s with help from ceramic braces. Other notable stars who sported braces in their teens are Emma Watson, who had orthodontic treatment before and during the Harry Potter series, Drew Barrymore, Catherine Zeta-Jones, Chris Pratt, supermodel Cindy Crawford and One Direction members Harry Styles and Niall Horan.
When it comes to adult braces, many celebs have been happy to flash their smiles on the red carpet while having orthodontic treatment. In the music world, these include No Doubt singer Gwen Stefani, who proudly wore braces at the age of 30 to help shift her teeth into a better alignment, and Faith Hill, who wore braces to the 2013 Grammy Awards. The 45-year-old country singer said her teeth had shifted since her original braces treatment because she forgot to wear an aligner when she was younger. Braces can also help established Hollywood stars to maintain their famous smiles. Tom Cruise wore
tooth-coloured ceramic braces for around two years in his early 40s, while Nicolas Cage had braces fitted to his crooked lower teeth at age 39.
Celebrities with veneers
Dental veneers can be an alternative to orthodontics for people whose teeth are only slightly crooked or have small gaps. Since the colour of veneers can be chosen by the patient and their dentist, they also help many celebrities to maintain a white smile, although this treatment is more intensive than peroxide-based teeth whitening as it involves permanently altering the teeth.
Veneers can be indistinguishable from natural teeth, but it's believed that many celebrities across the industries have chosen the treatment to help straighten and whiten their smiles, including the likes of Miley Cyrus, Victoria Beckham, Cheryl Cole and Demi Moore, who had veneers fitted in her 50s.
This treatment can also help to cover up chipped or damaged teeth, and it's believed that Hilary Duff chose veneers after chipping her tooth on a microphone during a 2005 performance. Hollywood star Ben Affleck's teeth notably change appearance between his roles in Good Will Hunting and Armageddon, becoming longer and losing the gaps, which may be thanks to veneers, and his former wife Jennifer Garner also may have followed suit to make her gums less visible when smiling.
Celebrities with dental implants
A missing tooth doesn't only affect your appearance. It can also increase your risk of oral health problems such as tooth decay and gum disease, as teeth can be harder to brush, and food and bacteria can get trapped. That's why dentists recommend replacing a missing tooth as soon as possible. [1]
Dental implants are a popular treatment for missing teeth. Placed in the jaw, implants act as a replacement for the entire tooth, including its root, which helps them to feel and function more like natural teeth compared to dentures or a dental bridge.
Celebrities who are known or believed to have implants include actor Morgan Freeman, comedian Chris Rock, rapper 50 Cent and boxer Mike Tyson. Ed Helms temporarily removed his implant when his character lost a tooth in the film The Hangover, just as Jim Carrey had a crown removed to reveal the chipped tooth underneath for the Dumb and Dumber movies. Finally, George Clooney may have had implants, crowns or veneers to restore and strengthen his teeth after they were worn down by repeated grinding
Do you need to see a dentist in Brisbane CBD?
If you're thinking about cosmetic dental treatments in Brisbane, schedule a consultation with our team at Face Value Dental. We'll explain exactly what's involved in each treatment, including possible risks and side-effects, so you can decide whether it's the right choice for you.
Call us on (07 3221 0677 or contact us online.
References
[1] Bupa UK. Replacing missing teeth [Online] 2016 [Accessed March 2018] Available from:
https://www.bupa.co.uk/health-information/directory/t/teeth-replacing