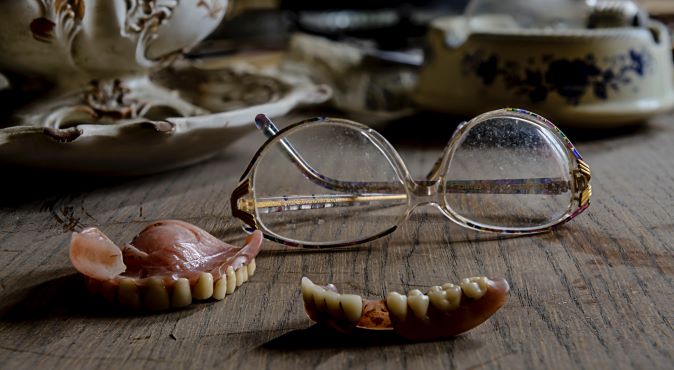 If you need to replace a damaged or missing tooth, your dentist can discuss the pros and cons of dentures and other teeth replacement treatments. Dentures are designed to look and feel like natural teeth and are custom-made to fit comfortably inside your mouth.
If your dentures have started to feel uncomfortable, they've come loose or they're causing you pain, you should make an appointment to see your dentist right away. They can check your mouth for any signs of oral health problems that may need to be treated and can repair or replace damaged dentures.
How are dentures fitted?
Dentures aren't a one-size-fits-all solution for replacing missing teeth. Whether you're replacing one tooth, several teeth in a row or a whole arch of teeth, your custom dentures will be made with care by a dentist or prosthodontist to be the right fit for your mouth.
To make sure you get the right fit, your dentist will take precise measurements of your mouth. If you choose partial dentures to fill gaps between teeth, they'll also take an impression of your teeth to make sure the denture fits properly.
If you need to have any teeth extracted before your dentures can be fitted, your dentist will usually recommend waiting for 2 to 3 months for your gum and jaw to heal before taking these measurements. This is because your mouth may subtly change shape during this time, which will affect how your dentures fit. Your dentist can provide immediate dentures to wear during this time.
Once your final dentures have been made, your dentist will check that they fit properly and ask you if they feel comfortable in your mouth. It's normal to feel some discomfort at first, especially if it's your first time having dentures.
How long does it take to get used to dentures?
It can take from a few weeks to a few months to get used to the feeling of dentures. During this time, your mouth might feel sore and you might notice more saliva being produced than normal. This is common and usually nothing to worry about.
If you still feel discomfort after this time, or your dentures feel loose, they might need to be adjusted. Your dentist can schedule regular appointments to check how you feel about your dentures and offer any advice.
Your dentist will recommend having a check-up at least once a year so they can check your dentures and your mouth for any signs of oral health problems.
How to take care of your dentures
You should clean your dentures at least once a day to remove food and bacteria that can cause problems in your mouth or bad breath. Dentures can be cleaned with hand soap and lukewarm water using a soft toothbrush, or you can use a specialist denture cleaning product.
If your dentures get damaged or worn down, make an appointment with your dentist for urgent denture repairs or a denture reline. Your dentures will need to be replaced after a number of years, depending on the material they're made from and how well you look after them.
It's also important to follow good oral hygiene and brush any remaining teeth and your gums twice a day to keep them free from plaque. Oral health problems such as gum disease can cause swelling and other changes in the mouth that cause dentures to come loose.
Find out more about dentures in Brisbane CBD
Get in touch with our friendly team at Face Value Dental to discuss the types of dentures we offer and other treatment options for replacing missing teeth.
Call (07) 32210677 or make an appointment today.
References
Better Health Channel. Dentures [Online] 2018 [Accessed August 2019] Available from: https://www.betterhealth.vic.gov.au/health/conditionsandtreatments/dentures
Healthdirect. Dentures [Online] 2019 [Accessed August 2019] Available from: https://www.healthdirect.gov.au/denture-fitting