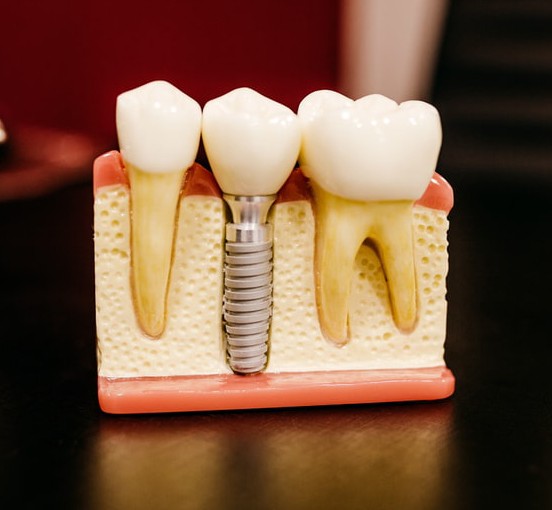 Do you have gaps in your smile or teeth that need to be extracted? Dentists recommend filling gaps between teeth to prevent the surrounding teeth from shifting position and avoid problems with eating and speech. One of the most popular ways to replace a tooth is using a dental implant.
Dental implants can replace as many teeth as you need and they have many advantages, but it's important to get a balanced overview so you can make fully informed decisions. Read this guide to the pros and cons of dental implants for different circumstances.
Advantages of dental implants
Implants have a number of benefits over a bridge or dentures, depending on your goals from the treatment. Five major pros of dental implants are:
Permanent tooth replacement
Look and feel natural
Prevent bone loss
Eat what you want
Easy to look after
1. Permanent tooth replacement
Dental implants are made from titanium, which is not only incredibly strong, but also biocompatible. This means the jaw will grow new bone around the implant once it's placed, holding it firmly in position like the root of a natural tooth.
Although the replacement teeth attached to implants are subject to wear and tear and may need to be replaced after a number of years, the underlying implant is extremely durable and will usually last a lifetime with proper care.
2. Look and feel natural
An experienced prosthetist can make a dental bridge or dentures look just like natural teeth, but there may still be issues such as dentures slipping, producing clicking sounds or affecting your speech. These drawbacks can be avoided with implants, which replace the supporting tooth root beneath the gum as well as the crown above.
Many people with implants also find that eating and speaking feels more natural, the replacement tooth having comparable strength and stability to a healthy natural tooth.
3. Prevent bone loss
Teeth are supported by the jaw, but the reverse is also true. When you lose a tooth, the bone underneath will no longer be stimulated to regenerate and may start to deteriorate over time. With multiple missing teeth, this can lead to noticeable shrinking of the jaw and a prematurely aged appearance.
By bonding with the jaw, a dental implant supports the jaw and can stimulate new tissue growth. This can make bone loss and deterioration less likely than with a bridge or dentures.
4. Eat what you want
If you have dentures or a dental bridge, your dentist will usually recommend avoiding certain types of foods that could cause them to damage or come loose – particularly hard, crunchy chewy and sticky foods. A replacement tooth supported by a dental implant will stay in place and won't shift or dislodge, so you don't have to give up your favourite foods.
Whatever treatment you have, your dentist will still recommend that you avoid having too much sugar in your diet. Sugar feeds bacteria in plaque and can lead to tooth decay and gum disease, which can affect the success of implant treatments.
5. Easy to look after
Unlike dentures, which need to be cleaned thoroughly every day and stored overnight in a solution to keep them moist and free from bacteria, there are no special care requirements for a dental implant. Your dentist will simply advise that you follow good oral hygiene as normal. This means:
brushing your teeth and prosthetic teeth twice a day to remove food, bacteria and surface stains
flossing once a day to remove trapped food and bacteria and prevent gum disease
cutting down on sugar and carbs to lower your risk of tooth decay
drinking plenty of water to stay hydrated and get the oral health benefits of fluoride
keeping up with your regular dental visits so they can check your teeth, gums and implants
Disadvantages of dental implants
When you're learning the facts about implants, it's important to recognise the possible downsides too. Reasons why you might prefer an alternative to implants include:
Not suitable for everyone
Multiple appointments
Cost more than the alternatives
Require surgery
Risk of complications
1. Not suitable for everyone
Dental implants can replace a single tooth, multiple teeth or all of your teeth, but not everyone is suitable for the treatment. Reasons why you may not be eligible can include:
your jaw is not large enough to support an implant
you have a health condition that affects bone healing
you have poor oral health
you smoke
Smoking and oral health problems such as gum disease can increase the risk of implant failure. Committing to improve your oral health or quit smoking could make you a candidate at a future appointment.
If you have a small jaw, you may still be able to have implants if you choose to have a procedure such as a bone graft or sinus lift to increase the density of your jawbone. If you want to replace all of your upper or lower teeth with full arch implants, these may be suitable for smaller jaws as they are implanted at an angle.
2. Multiple appointments
The dental implant procedure typically involves a series of appointments that can take place over a period up to six months. This could make it off-putting if you want a quick fix for your smile, but the wait is necessary to give the jaw bone time to heal around the implant and hold it securely in place.
During this time, you will be fitted with a temporary crown or bridge. When your dentist confirms that the implant has fully fused with your jaw, they can place your final crown, bridge or abutments for implant-retained dentures.
There are exceptions to this timeline depending on the speed of bone growth and the type of implant treatment you're having. Notably, full arch implants don't need to bond with the jaw, so the procedure may be completed in two or more appointments.
3. Cost more than the alternatives
Dental implants cost more than a bridge or dentures up front, although the ongoing costs are less. Implant surgery is a one-time investment for most people, with only the prosthetic teeth attached to the implant generally needing to be replaced after a number of years. For comparison, dentures and bridge treatments normally need to be replaced more frequently.
Depending on the type of insurance you have, you may be able to claim back part of your treatment cost on your health fund. You can also ask your dental clinic whether they offer payment plans to help you spread the cost over a number of instalments.
4. Require surgery
Placing an implant involves a series of minor operations on the gum and jaw, so if you don't like the idea of surgery, dental implants might not be for you. Your dentist will explain each step of the process so you'll know what to expect during the treatment and recovery period.
Local anaesthetic will be used to numb your mouth so you won't feel pain during the implant procedure. If you're nervous, you can talk to your dentist about other types of sedation and other ways to manage dental anxiety. If you're having multiple implants or extractions at the same time, general anaesthesia may be required.
5. Risk of complications
Dental implants have a high success rate, but any surgical procedure involves risks and your dentist will make sure you understand what these are before making your decision. Possible complications of implant surgery include:
infection of the gum
damage to surrounding teeth, nerves or blood vessels
sinus problems for implants in the upper jaw
These risks will be reduced if you choose a qualified and experienced dentist, but will be increased if you have poor oral health or you smoke before or after the treatment. Flying overseas for cheap dental implants can also increase the risk of complications, as the facilities, equipment and hygiene protocols may not be held to the same strict standards as those in Australia.
Are dental implants right for me?
Whether the pros of dental implants outweigh the cons is a personal decision, and your dentist will make sure you know all your options for replacing teeth so you can decide what's right for you. Alternatives to dental implants include:
Dental bridges – a prosthetic tooth or teeth to fill gaps in your smile, bridges are attached to the surrounding teeth by crowns or clasps, depending on their position in the mouth.
Full or partial dentures – removable false teeth to replace one tooth, several teeth or all of your upper or lower teeth, dentures are custom fitted by a dentist and should be cleaned daily.
You can get all the information about dental implants and other teeth replacement treatments at your initial implant consultation.
Book a consultation for dental implants in Brisbane
To find out more about dental implants or start planning your treatment, call Face Value Dental on (07) 3221 0677 to schedule an appointment with our experienced implant dentists in Brisbane.
We have five convenient locations in Brisbane CBD, Albert Street, Albany Creek, Helensvale and Toowong. You can also book online.
References
Healthdirect. Dental implant procedure [Online] 2021 [Accessed June 2021] Available from: https://www.healthdirect.gov.au/dental-implant