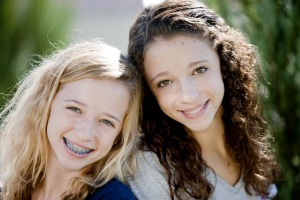 A straight smile isn't just a cosmetic concern. If you have a crooked smile, gaps between your teeth or a misaligned bite, these could affect your ability to eat or speak normally, as well as making it more difficult to brush and floss your teeth.[1]
When you visit your dentist for your regular check-up, they may discuss teeth straightening options that could help you. Straightening teeth isn't just for teenagers, as more adults are now choosing orthodontic treatments thanks to advances in discreet braces and clear aligners.[2] An alternative is dental veneers, which can be bonded to the front of teeth to change their appearance.[3]
Your dentist or orthodontist can give you all the information you need about what these treatments involve, how much they cost and the possible risks, so you can decide which option is right for you.[1]
How do braces work?
Today's braces have come a long way from the bulky and very visible metal braces of the past. Whether you choose traditional metal brackets and wires or another option, modern braces are designed to be as unobtrusive as possible.[2]
If your dentist thinks you could benefit from orthodontic treatment, they'll discuss the different types of braces you're eligible for. Depending on how much straightening is needed, these may include metal braces, tooth-coloured ceramic braces, lingual braces that attach behind the teeth, or other options.[2]
Whichever type of braces you choose, all of them work in a similar way. The brackets apply gentle, constant force that helps to shift your teeth or jaws into their desired position over time, with regular adjustments by your dentist or orthodontist every few weeks.[1]
It can take some time to get used to the feel of braces, but most people adjust within a few weeks. If your braces feel uncomfortable after that time, or you have other pain or discomfort, you should make an appointment with your dentist, as adjustments may be required or the brace might have come loose.[1]
How do veneers work?
Dental veneers can be an alternative to braces if your teeth are only slightly crooked or have small gaps between them. Veneers are thin shells that are bonded to the front of your teeth to change their appearance. This cosmetic dental treatment cannot correct a misaligned bite or other orthodontic problems however.[3]
There are two types of veneers. Porcelain veneers can be custom-made and bonded to the surface of the teeth, or composite resin veneers may be applied directly to the teeth, sometimes in a single appointment. Porcelain veneers tend to last longer and are more durable, but they also cost more than composite veneers.[3]
Before veneers can be fitted, your dentist will need to reduce the size of your teeth. This can make veneers unsuitable for people with thinner teeth, and there's a risk of teeth feeling more sensitive to temperature and pressure after the treatment. If you're interested in veneers, your dentist will explain all the possible risks during your consultation.[3]
How much straightening do you need?
Not all teeth straightening treatments are equally effective. If you have a more complex or severe orthodontic case, traditional metal braces may be the best option, as these are stronger and have more predictable results.[4]
If you only need minor corrections, you'll usually have a wider range of treatments to choose from, including braces, veneers and clear aligners.[4]
How much time do you have?
Orthodontic treatment can take a long time, depending on the treatment you choose and the results you want. While some braces treatments can be complete in as little as six months, most treatments take one to two years. You'll also need to wear a retainer for a certain amount of time after the treatment has finished, to help your mouth adjust to its new position.[1]
By contrast, veneers can be completed in a few visits to the dental clinic. However, veneers are not a permanent treatment and may need to be replaced after a number of years if they get damaged, stain or wear down.[3]
Book a consultation in Brisbane CBD
If you're thinking about straightening your teeth and you want to know your options, get in touch with Face Value Dental.
Call us on 07 3221 0677 or contact us online to arrange a consultation with our dentists in Brisbane at a time that suits you.
References
[1] Healthdirect. Orthodontic treatments [Online] 2017 [Accessed September 2018] Available from: https://www.healthdirect.gov.au/orthodontic-treatments
[2] Orthodontics Australia. Aussies want to improve their teeth: survey [Online] 2016 [Accessed September 2018] Available from: https://orthodonticsaustralia.org.au/aussies-want-improve-teeth/
[3] Canadian Dental Association. Bonding & Veneers [Online] 2009 [Accessed September 2018] Available from: http://www.cda-adc.ca/en/oral_health/procedures/bonding_veneers/
[4] Orthodontics Australia. All about clear aligners [Online] 2016 [Accessed September 2018] Available from: https://orthodonticsaustralia.org.au/all-about-clear-aligners/