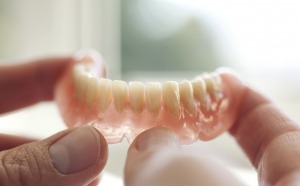 Whether you're wearing dentures for the first time or you're replacing your old dentures, it can take some time for your mouth to adjust.[1]
Follow these five steps for a smoother transition and to lower your risk of denture problems.
1. Make sure they're fitted properly
For the most comfortable fit, your dentures should be custom made by your dentist to be an exact fit for your mouth. This makes it less likely that they'll feel uncomfortable or cause gum problems such as bleeding, swelling or ulcers.[1]
If you need to have some teeth extracted before your dentures are fitted, your mouth should be given time to heal before impressions for your dentures are taken, otherwise you risk getting the wrong fit. This can take several months.[2]
Your dentist will show you how to properly fit and remove your dentures. Making sure you fit them properly every day is important for keeping them stable in your mouth and minimising discomfort. If you find you're having to use force, talk to your dentist as some adjustment may be needed.[3]
2. Don't let them dry out
You should try to wear your dentures as much as possible so your mouth can get used to how they feel, only taking them out at night. When they're not in your mouth, they should be stored in water or a denture solution to prevent them from drying out, as this can cause them to warp and lose their shape.[2]
If you notice that your dentures are dry, place them in water for a few minutes to moisten them before putting them into your mouth.[3]
3. Clean your dentures every day
Just like teeth, dentures need to be cleaned daily to remove bacteria and trapped food that can affect their appearance and cause bad breath. However, unlike teeth, dentures should never be cleaned with toothpaste.[3]
Instead, use mild soap and water or a denture cleaning solution. These can be bought from supermarkets or pharmacies or may be recommended by your dentist.[3]
Plaque and tartar can build up on dentures over time. Your dentist can remove this during your regular check-ups. You may be able to remove some plaque by soaking the dentures in a solution of one part white vinegar to four parts water.[3]
4. Quit smoking
Your dentist will advise you to stop smoking when dentures are fitted. As well as possibly staining your dentures, tobacco use can increase your risk of oral health problems that can affect your denture experience.[4]
These problems include gum disease, which can cause the gum to swell or bleed and make dentures feel uncomfortable, and reduced saliva flow, which can make dentures feel loose. Tobacco use can also cause the jaw bone to shrink over time, which may require adjusting or replacing your dentures.[4]
Smoking is also a major cause of oral cancer. If you smoke, your dentist may offer an oral cancer screening as part of your regular check-up.[5]
5. Visit your dentist for regular check-ups
It's normal for dentures to feel a little awkward or uncomfortable when they're first fitted. You may feel mild irritation or soreness as the muscles of your tongue and cheeks get used to your dentures, but this should go away within a few weeks.[2]
If you continue to feel discomfort after this time, there may be something wrong with your dentures and you should make an appointment with your dentist. They'll check your mouth and your dentures to try to find the cause of the problem, which may involve denture repairs if they've become damaged.[3]
Even if you don't have any complaints, it's important to keep up with your regular dental visits so your dentist can check that your dentures are still fitted correctly or make adjustments.[1]
See a dentist in Brisbane CBD
If you want to know more about dentures, or it's time for your regular check-up, make an appointment with our friendly team at Face Value Dental.
You can call us on (07 3221 0677 or contact us online.
References
[1] Australian Dental Association. Dentures [Online] 2017 [Accessed August 2018] Available from: https://www.ada.org.au/Your-Dental-Health/Older-Adults-65/Dentures
[2] American Dental Association. Dentures [Online] 2012 [Accessed August 2018] Available from: https://www.mouthhealthy.org/en/az-topics/d/dentures
[3] Healthdirect. Dental appliance problems [Online] 2017 [Accessed August 2018] Available from: https://www.healthdirect.gov.au/dental-appliance-problems
[4] Australian Dental Association. Lifestyle Risks [Online] 2017 [Accessed August 2018] Available from: https://www.ada.org.au/Your-Dental-Health/Older-Adults-65/Lifestyle-Risks-(1)
[5] Australian Government Department of Health. The effect of smoking on your mouth [Online] 2012 [Accessed August 2018] Available from: http://www.quitnow.gov.au/internet/quitnow/publishing.nsf/Content/effect-on-mouth